Congress Activities
Congress activities will center on one of the three cross-cutting questions.
---
Parallel Activities
Diverse projects are arising …
1. Children of the World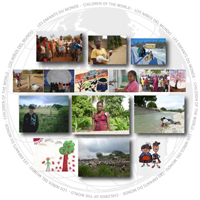 "Children of the World" is one of the featured activities of the 5th World Environmental Education Congress. With this multimedia project, the organizers of the Congress will open the floor to children from all corners of the world by giving them a virtual space through which to express what matters to them most.
Through the diversity of their unique perspectives, sensitivities, concerns and dreams, these children will introduce us to their environment—in their own words and in their own language.
As we all know, children are not mere "beneficiaries" of environmental education; they are also exceptional educators themselves, capable of using their awareness and critical thought to enrich the problem-solving process and to join together in reinventing and reconstructing their world.
2. The eco-show, a festive rendezvous at the crossroads of biodiversity, fantasy and eco-responsibility
When : Thuesday, May 12 2009, from 7h30 pm to 10h30 pm
Where : Montréal Biodome
What : environnemental animation and cocktail
How much : CAD$ 25
At the crossroads of biodiversity… Surprises, laughter and thrills are on the agenda for this night-time adventure, An Evening Under the Moon. Presented in partnership with the Montréal Biodôme, this unique event will allow you to wind your way through the ecosystems while animals move furtively through the night; where new experiences await you at each and every turn. Characters trace your footsteps, ready to introduce you to a host of bewitching, wild, fantastic and mysterious experiences in a universe created expressly for you. See nocturnal animals—bats, sloths, beavers, lynx—through the special effects of dim blue lighting. The background sounds created by the chirping of the crickets and movements of the toads and bats promise to be nothing short of… impressive!
… fantasy… Throughout the entire tour, from the main entrance to the ecosystems, the rooms to the hallways, enjoy entertaining and thought-provoking presentations on ecological themes. Actors playing characters, interacting with visitors, treating everyone to an array of artistic performances (song, dance, music, circus arts)… Allow yourself to be whisked away by the talent of these performers and the make-believe world of these fascinating characters!
… and eco-responsibility. A 5th ecosystem, that of eco-responsibility, joins the Biodôme's offerings for the occasion, raising awareness about the importance of responsible consumption and equally-responsible waste management. Here, take part in the Ballade des Lixiviens, an activity showcasing exceptional biodiversity and the responsibilities that go along with our consumption choices. A masterpiece combining a giant puppet, clown tricks and interaction with participants.
Tickets : Everyone is welcome to this show ! Congress participants should reserve through the registration and acccommodation section. Tickets are also available at 1205 St-Denis street, Office N 4610 (phone number : 514-987-0402).
View the eco-show poster.
The theatrical intervention is a conception of Mise au jeu.

The 5th World Environmental Education Congress offers its warm thanks to the eco-show sponsors.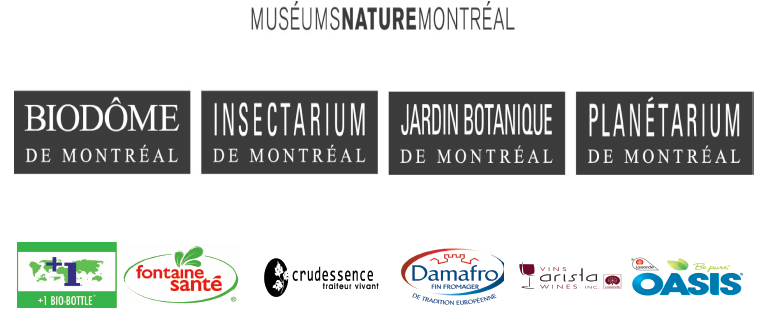 3. An International Festival of Environmental Storytelling
Storytelling is an ideal vehicle for expressing our relationship to the world. Through the power of the imagination, storytelling serves to feed the reflection process and build awareness on our relationship to the environment. The International Festival of Environmental Storytelling promises to infuse the 5th World Environmental Education Congress with an air of "magic".
Throughout the ages, the art of storytelling has been a powerful way for societies to reinforce their core values, knowledge and traditions and ensure these are passed down from generation to generation. Myth, legend or tale, together these make up a rich body of lore that tells of our forbearers' concern for harmonizing the alterity of their existence within a real, imaginary or symbolic environment. The story is not a lesson in itself, but rather a free space for transforming reality through the power of words, where the line between the possible and the impossible becomes blurred and mystery reigns.
The festival activities will take place in two cafés, from Monday May 11th to Thursday May 14th. Take a look at the preliminary program !
4. CinEE - A window to the world
Documentary cinema is a window to the world, a kaleidoscopic view of reality here and abroad. It offers a multitude of images and sounds that celebrate the diverse forms and manifestations of life, that denounce the risks and dysfunctions, that stimulate consciousness and raise social critique, that solicit imagination and creativity when researching solutions and new ideas. From Port-Neuf to Rio, passing through Amsterdam, Marseille and Tehran, documentaries have a common language, that of film and microphones. CinEE – A window to the world – will pay homage to artists, producers and directors, who sought, through their art, to sensitize, educate and transform our relationship with the environment. It will offer the chance to view and discuss diverse productions and to make clear their current and potential contribution to environmental education.
5. The CLUB 2/3 Walk
On May 15th, nearly 15,000 young people will take to the streets of Montréal in the name of international solidarity. Seeking a more interconnected, fair and just world, they will gather from all corners of Québec to celebrate their shared commitment and determination to bring about positive change to the world around them. This annual event, the largest youth rally of its kind in North America, was born in 1970 and is organized by CLUB 2/3, the youth branch of Oxfam-Québec.
"Young people want to be part of the solution. CLUB 2/3 is about promoting fair and responsible consumption, international cooperation and solidarity projects in the world, clean water, access to education…and every year this commitment by youth culminates in a solidarity march," explains Jean-Pierre Denis, partnership advisor for Oxfam-Québec and co-founder of CLUB 2/3.
This 39th edition of the CLUB 2/3 Walk will take place under the banner, "Ça chauffe sur la planète, bouge!" This theme symbolizes the concerns of today's young people and translates their awareness that individual and collective action taken right here at home can have a positive influence on their future and that of generations to come. As in previous years, participants will express their solidarity through the creation of magnificent banners and imaginative tools that represent the global causes to which they are committed.